groupr (my little JavaScript application that gives users an overview of their Flickr group membership) needs to be able to communicate with Flickr. That's really not hard; getting the most recent public photos posted by a user can be done trivially, either using feeds or the API proper.
However, most of the calls that you need to write really interesting applications require authentication, so that they can see private data. Rather than use the password antipattern, Flickr uses a well-thought-out multi-step system. Unfortunately, this can be a bit tricky to wrap your head around, and harder still to debug. It was certainly something I spent a while grappling with for groupr. That's the main reason I've split out the parts of groupr that talk to Flickr into a library on AppJet called lib-flickr-minimal.
As the name suggests, the library doesn't actually do that much. There are methods to handle the steps of authentication, and there's a generic function to call any Flickr method. However, it's more than enough for me to write both groupr, and a little demo application that guides other users through the process of handling authentication.
(A little on that demo application. I spent a few minutes trying to think of a method that required read privileges that would not be too obvious and dull ("you have 500 private photos", for example). Thankfully I remembered the recently-launched flickr.places.placesForUser method, and so I decided to use that as my example call. A bit more work meant I could plot the places returned onto a Google map, so now you can see where you've taken (or at least, geotagged) the most photos.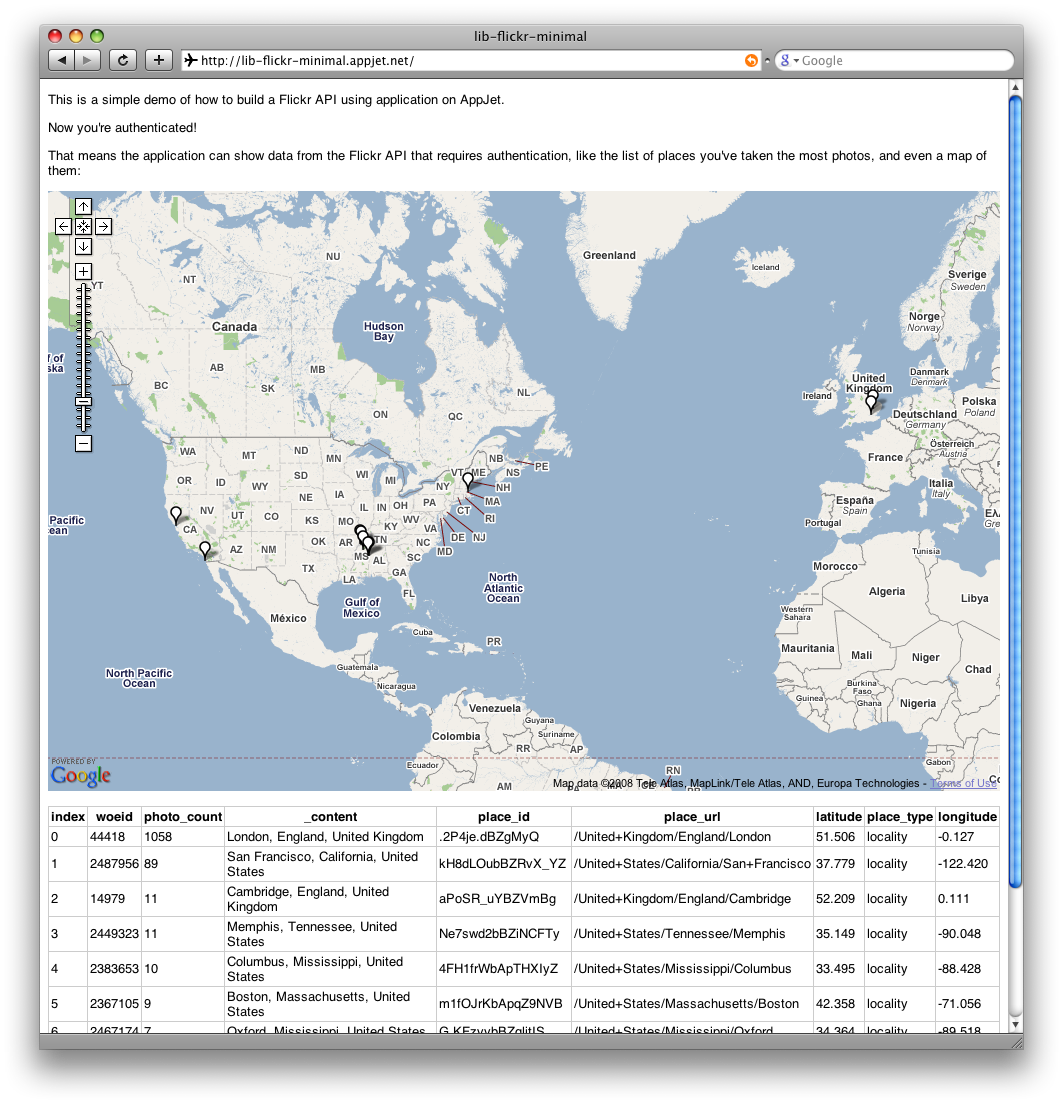 Ideally I'd rewrite this to produce something prettier, like Dopplr's lovely raumzeitgeist images, but for now, it's a nice little one-page example.)
Philosphically, I prefer this style of library. There seem to be two schools of thought when it comes to building such things. You can tell from the source of the library that I'm in the  "least possible work" camp: provide helpers for the functions that are tricky, but for most calls, let the user consult Flickr's documentation to figure out what to call, and use JSON as a return format to make everything that you get back an object (or at least, a rich data structure).
The other camp, which I think of as being influenced by Java and other less dynamic languages, wants to provide a method for everything. As a result their implementations tend to have lots of boilerplate code for handling every single Flickr method (there are about a hundred now), and more for parsing the returned XML (rarely, if never, JSON) and add to it convenience methods for such things as constructing URLs.
While the latter style is probably superficially appealing (you get documents in one place, and the library can error-check locally) it also has significant drawbacks. When Flickr add a method, or extend the returned data, the library has to be patched and re-released. Many libraries only implement the methods of interest to the author, leaving chunks of the API unimplemented. (These are particularly annoying for me; they tend to implement flickr.photos.search, which seems to be the cornerstone of the Flickr API, but ignore the interesting methods around the edges, which I seem to be drawn to.)
There is a nice middle way, which is to use metaprogramming and the API's own reflection methods to construct a list of allowed calls and arguments, giving  error-checking but also updating automatically when Flickr add methods. The libraries I prefer for both Python and Ruby do this, and very nice they are too.
To be honest, this is probably where I want lib-flickr-minimal to end up, but for now, I'll happily take a library that stays out of my way rather than one that aims to do everything but only implements a few things. Hopefuly others on AppJet, or those looking to implement Flickr authentication, will find it useful too.